Creative and Social E-commerce
AI-powered solutions to improve user experience & customer engagement
5 ways in which Impresee works for you
Extend your store beyond your web page. See your products going viral in Social Media and capitalize on your followers.
Create marketing campaigns that are interactive, engaging and fun. Increase brand awareness and conversion rates.
Discover what users are looking for and see your most popular products. Be on top of shopping trends.
Integrate your e-commerce platform to social media with minimal effort.
Pricing packages available to clients of all sizes.
Try Impresee's technologies now
We are dedicated to innovating user experience, generating greater engagement and brand loyalty.
A MARKETING TOOL FOR SOCIAL NETWORKS

#hashtoc is an "intelligent hashtag tool" that enables interactive marketing campaigns on social media. Its aim is to capitalize on social networks to make your products go viral! Allow your clients to search via hashtag & mentions, while getting direct results linked to your website. Our AI-powered technology searches your product catalog instantaneously and responds to the user via comments/mentions directly under their original post.
ENABLE THE FUTURE OF SITE SEARCH ONTO YOUR E-COMMERCE SITE OR YOUR APP

Take your Site Search experience to a whole new level with Vsearch. Our solution enables 3 search functionalities for your website: Image, Sketch and Text search. Increase the conversion rates on your e-commerce site, by delivering exact matches fast. Furthermore, turn your Customer Journey into an experience that is fast, memorable and FUN!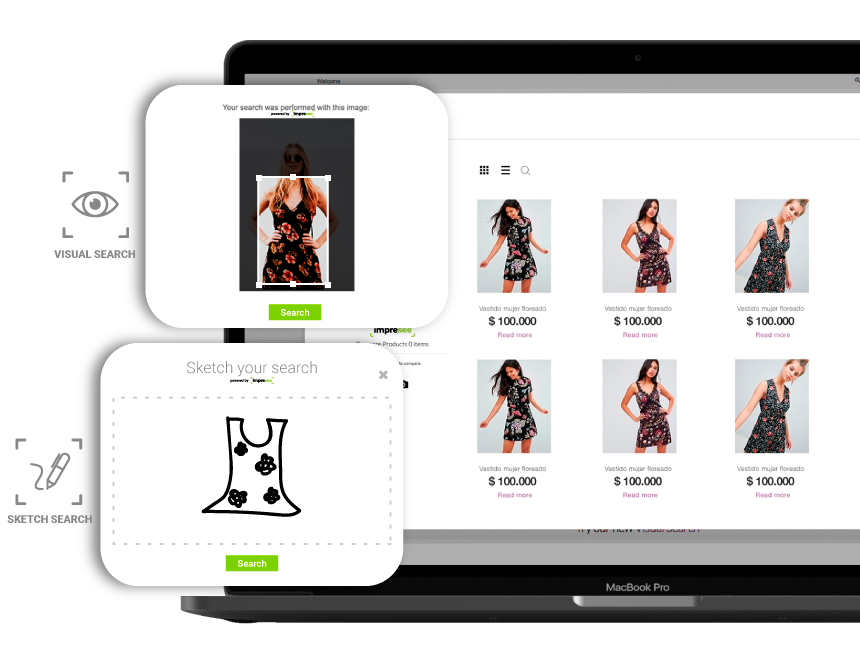 Gather usage data from your Visual Search tools to make educated decisions regarding product availability and positioning within your website. See what your clients are looking for, including: images they use, geographical location, CTR's + more!
Sales increase of our client

600 California Street, 11 Floor
San Francisco, CA. 94108.
Tel: +1 (415) 903-0467
LATAM OFFICES
Chile:
Estado 360 of 702, Santiago / Tel: (+56 2) 2247 4691
San José, Costa Rica:
Tel: (+506) 2505 2604 / (+506) 8822 0692
Colombia:
Tel: (+57) 316 2549757

600 California Street, 11 Floor
San Francisco, CA. 94108.
Tel: +1 (415) 903-0467
Estado 360 of 702, Santiago, Chile / Tel: (+56 2) 2247 4691
Colombia: (+57) 316 2549757
San José, Costa Rica:
Tel: (+506) 2505 2604 /
(+506) 8822 0692